2019 Coaches-of-the-Year
Class AA - Jerry Marks, Southern Columbia
Class AAA ...Brad Silimperi, Council Rock South
bgreenly@acfindustries.com - Scholarship Information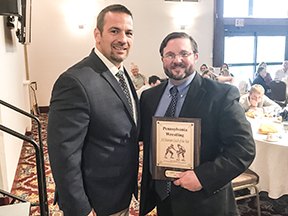 Kent Lane, S. Columbia, 2A Asst C-O-Y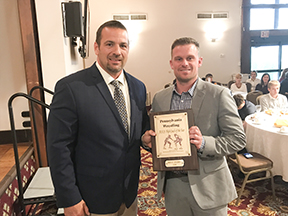 Brent Zeiders, Central Dauphin, 3A JH C-O-Y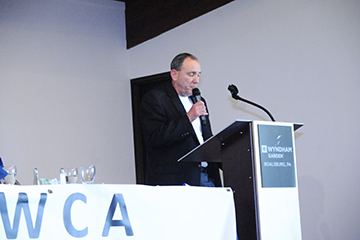 Gene Waas - Chariman of the PWCA Hall of Fame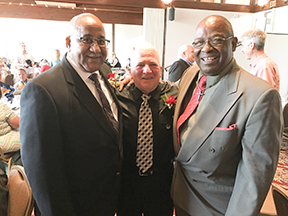 Bruce Haselrig, Tom Best & Bernie Chatman

Pennsylvania Wrestling Coaches Association News & Events
| | | |
| --- | --- | --- |
| | | |
| | ....... | |
5/23/19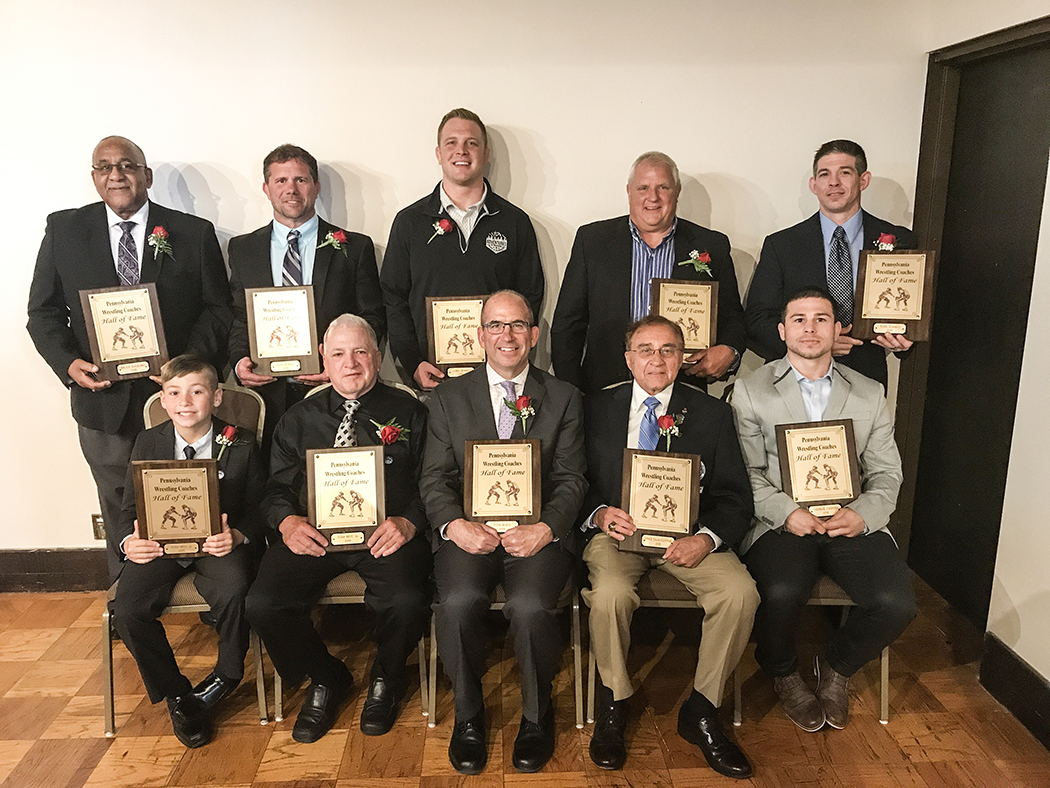 PWCA Hall of Fame Class of 2019
FRONT: Tommy Best's son, Tom Best, Tom Bold, Tom Harbert (for Vince DeAugustine ) Charlie Griffin
BACK: Bruce Haselrig, Tom Hontz, Caleb Kolb (for Greg Jones), Jim Kuhn (for Floyd Marshall), Tom Tomeo
PWCA Essay Award Winners
$1000
Seth Link - Cambria Heights
Cam Connor - Kiski Area

$500
Baylor Shunk - Penns Valley
Ridge Vhla - Thomas Jefferson
Brady Villa - Tussey Mountain
Shawn Berzonski - Conemaugh Twp
Coach-of-the-Year Results:

AA Head Coach- Jerry Marks, Southern Columbia
AA Assistant- Kent Lane, SC
AA Jr. High Coach- Devon Weed, Canton
AAA Head Coach- Brad Silimperi, CRS
AAA Assistant- Trap McCormack, CRS
AAA Jr. High Coach-Brent Zeiders, Central Dauphin
PWCA All-Academic Nomination Form
Home Town Ticketing - Exclusive Digital Ticketing Partner of PIAA
The PWCA Hall of Fame Inductees for Class of 2019

To be eligible for Coach of the Year recognition, the coach must be a member of the PWCA and receive
the votes for District Coach of the Year in their respective district. A coach may be nominated as an at
large nominee, if extenuating circumstances exist, ie. did not receive the District Coach of the Year,
but has had a strong team showing in Sectionals, Districts, Regionals, and States. That nomination can
be placed on the floor at the PWCA Board meeting the Thursday evening at States, and must receive a
majority vote of the Board of Directors.
Once a coach receives the District Coach of the Year Award, he will be given a standard form to fill
out pertaining to specific accomplishments of his team for the current season. That form needs to be
forwarded to the PWCA President. A booklet of all respective District COY nominees, will be compiled.
These booklets are then distributed to all officers, and district presidents, at the PIAA Wrestling Championships.
All officers, and district presidents are to turn in their ballots, no later than the completion of the
semi final round for each classification.
NOTE:
Important.. there will be expanded rankings for teams and other pertinent. It is imperative that coaches (or their asignees enter their results into Track Wrestling ASAP. Details will follow.
Wrestling Rules via PIAA Bulletin 10/11/18
PWCA on facebook! And Twitter @pwca#2012pwcaconvention
Why Become a Member of the PWCA? Right HERE!