New head coaches:
Mike Ottimger was named head coach at Parkland; Ryan Nunamaker has resigned.
John Walizer has been named the HWC at Hempfield (Dist 3)
Tim Andrekovich takes over at Bellwood-Antis
Corey Fetterolf is new HC @ North Schuylkill.
Jeff Havelka - Canon McMillan
Chucky Connor - Conwell Egan.
Nick LaFevre - Emmaus
Jeff 'Peanut' Bowyer - Coatesville
Christian Harr - Hollidaysburg
Jason Gibble at Wilson West Lawn
Tim Simon - McDowell


(Please let Tom know of other changes. THANK YOU!) tom@pawrsl.com


PIAA Brackets 2017
| | | | |
| --- | --- | --- | --- |
| ....... | Outstanding Wrestler - 2A - Max Murin, Central Cambria | | Outstanding Wrestler - 3A - Austin DeSanto, Exeter Twp |
| | Mark Dugan - makes presentations for Keystone Wrestling Round-Up | | |
| | | | |
| | Most Falls - 2A - Devin Fontanez, Saucon Valley | | Most Falls - 3A - Erech Noecker, Blue Mountain |
We'll have direct link to all the results of every match HERE.
PIAA State Wrestling Gallery - All Photos have been added.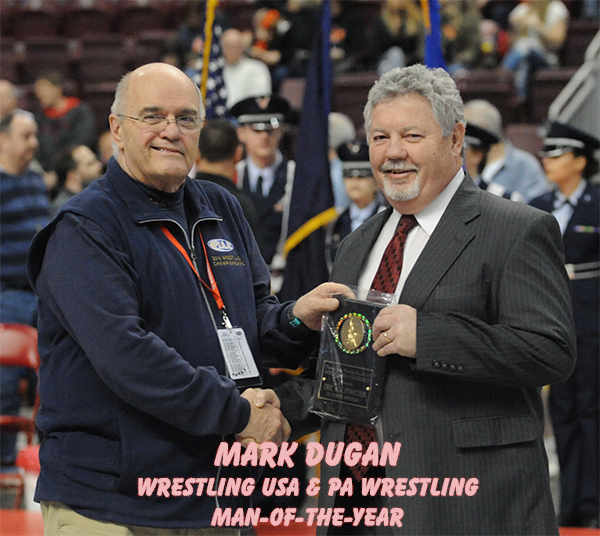 Presented by Rich Vetock
We need young wrestling officials as our older ones retire.
Check the PIAA website for details to register & take test (online is possible).

On PCN Facebook last Thursday morning at 11, Jim Davis and I discussed
the PIAAs and what we viewed as top matches. You can view that in the archives.

Don Lehman's West York Website will also have plenty of Wrestling information.
******************** PIAA 2A Individual Champions 2017 ***************************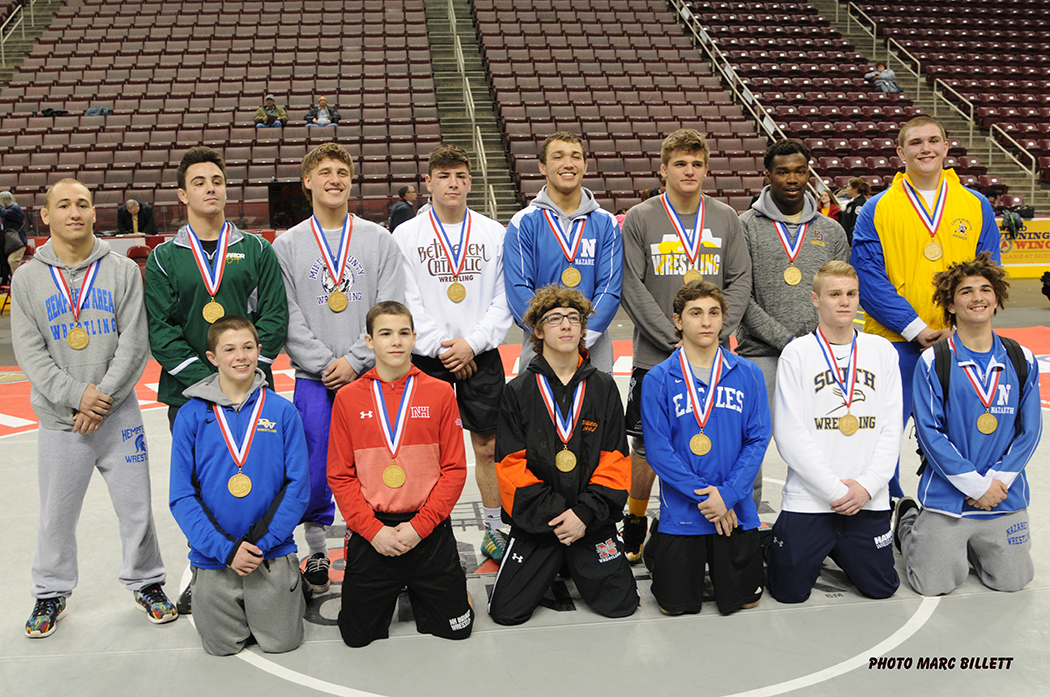 ******************** PIAA 3A Individual Champions 2017 ***************************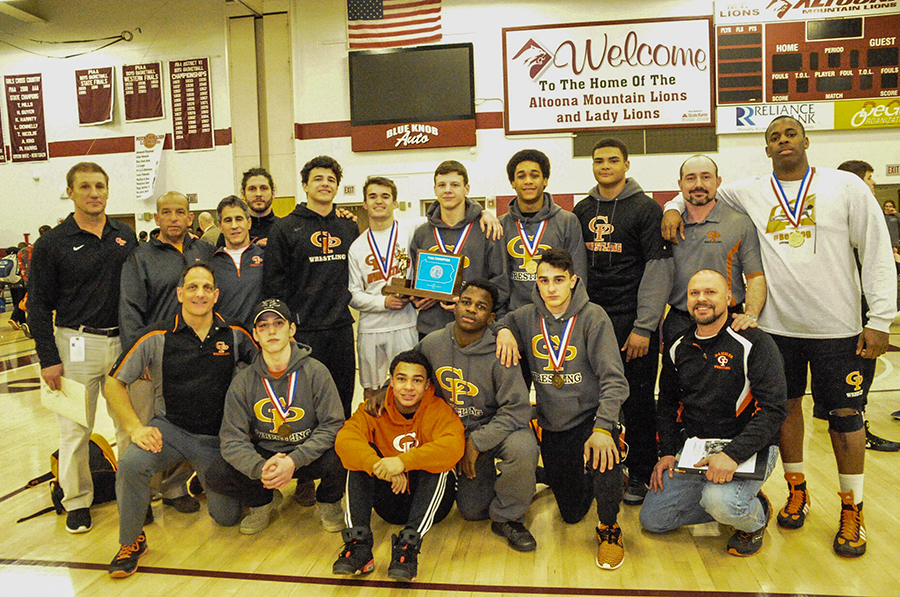 Cathedral Prep - 2017 NW AAA Regional Team champions
District 6 Class AA Brackets - Live updates at Flo
PIAA TEAM Championships Brackets
AA AAA We will be updating them from the arena.
Follow the PIAA TEAM Championships as each dual meet is being
wrestled - Rich Vetock and Gimp productions.
I will post photos from the duals as often as I can upload. (Check back often
to see if your favorite wrestler is in the gallery
Amateur Wrestling News' Jim Kalin has written a book about wrestling icon Mike Milkovich.
This a book all wrestling fans will want to read. Check out the press release here.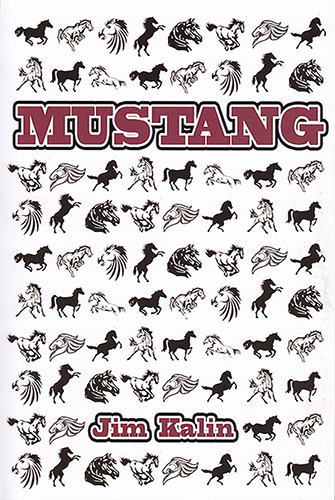 ---
.......

Contact Rich King.

lvwrestlinghistory@rcn.com

My father coached wrestling at Dieruff H.S. in the 1960's and early 1970's. For the past year, I've been working on a project to research how high school wrestling began in grew in the Lehigh Valley. I learned about the great coaches, wrestlers and teams of the 1950's and 1960's and the stories of the early pioneers who helped set the foundation for the strong wrestling legacy in the Lehigh Valley. My efforts have culminated in launching a website to tell their story - Lehigh Valley Wrestling History.


I wanted to contact you as you are very active in the wrestling community and I've been a long-time reader of your PIAA Wrestling History Book. I wanted to see if you would be kind enough to share this with others who follow high school wrestling. My hope is to reach others who follow the sport and who coached or wrestled during those early times or whose family members told them stories of their wrestling days. My goal is to have a dynamic, collaborative website where I could add to the content and give credit to those who have provided it.
Need top quality scales or portable scoreboard?
NEW - wireless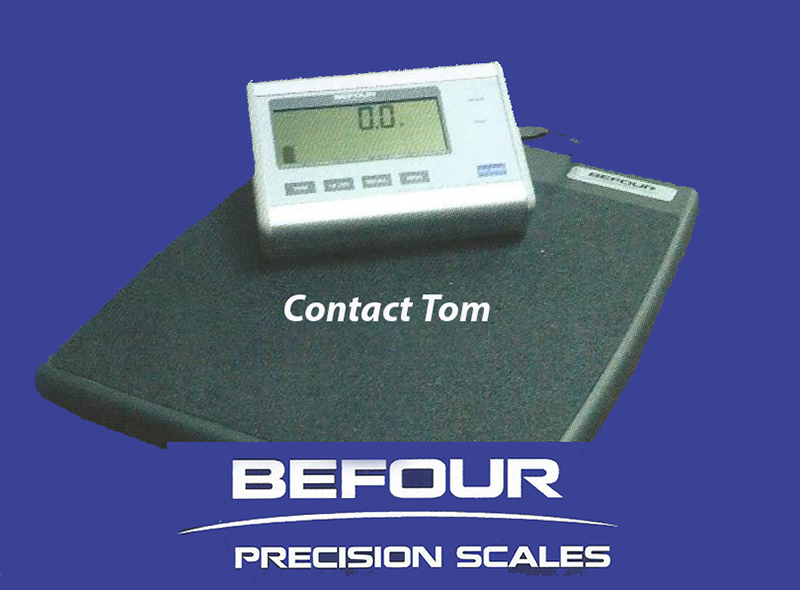 Click on scale photo to get information.
Tom Elling's PA Wrestling Handbook 2016-2017
(Sold Out!)
PWCA Wrestling Convention Photos (Oct 14-15 2016)
Photos from Oct 12, 2016 Wrestling Breakfast
(EZeznanski@crsd.k12.pa.us
)
Photo Album from the 40th Anniversary of the National Wrestling Hall of Fame (June 1-4)

27th NHSCA Nationals - RESULTS Seniors/Juniors Soph/Frosh/MS
PIAA Photos - What Tom was able to take - nearly 1000 photos
Completed Brackets (full information - thanks to Spike Temple & Todd Stine)
AA AAA
......
PIAA Wrestling Calendar 2016-2017

Minimum Length of Preseason Practice - 3 weeks
First Inter-School Practice or Scrimmage Date - November 25
Maximum Number of Regular Season Inter-School Practices or Scrimmages 2
First Regular Season Contest Date - December 9
Maximum Length of Regular Season - 11 weeks
Maximum Number of Regular Season Contests 22
District Deadline Team Wrestling - February 4
Team Wrestling Preliminary Round - February 6
PIAA AA & AAA Team Wrestling Championships - February 9, 10 & 11 TBD
Last Regular Season Contest Date and District Deadline - February 25
Region Deadline - March 4
PIAA AA & AAA Wrestling Championships - March 9, & 10 & 11 TBD
2016 Girls' States' Wrestling Schedule
(Joe Stabilito)
2016 PIAA Team Championships Brackets Class AA Class AAA
(Note: The summaries can be accessed via these brackets.)
Photos from the Giant Center - wrestling action
---

Youth, Boys & Girls Wrestling Camps | Ken Chertow Wrestling
Youth, Boys & Girls Wrestling Camps | Ken Chertow Wrestling
---
........................
Booster Clubs and Coaches: Check your lockers and closets.
You have to have old video just sitting there and decomposing. Save your history!

Preserve Tradition.. Contact me about getting them digitally improved and
preserved. (Click on the photo)

I finally found a company that can transfer my old videos to a digitally reproduced
format onto a DVD AND in the cloud.

I am sure many of you have old film, videos, slides and photo albums you'd like to
preserve. Check your attic and get back to me as I am now a rep for Legacy
Republic! tom@pawrsl.com
---