Wrestling Rules via PIAA Bulletin 10/11/18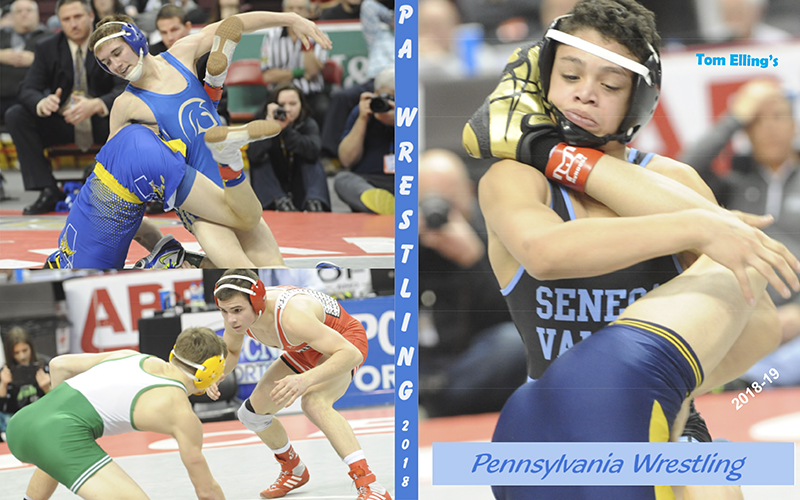 Ready to ship to you NOW... You can review all the teams your team will face.
| | |
| --- | --- |
| ...... | 1. Lists every returning wrestler who competed in the PIAA Series with grad year, piaa places, W-L |
| | 2. Includes Independent Schools' Results as well as the National Preps |
| | 3. Ranks the Top 100 Returning wrestlers for both AAA and AA; Ranks top Returning PAIST (Independent) |
| | 4. Ranks the Top 50 Returning Teams (based upon TOURNAMENT strength) (AAA, AA and Independent |
| | 5. Lists results (placers) of selected tournaments (ie King of the Mountain, PowerAde, Beast, Ironman, etc) |
| | 6. List Fargo and other summer results |
| | 7. Lists EVERY PIAA placer since 1938. Listed bot by last name and school |
| | 8. Lists all those inducted in the PWCA and the PA Chapter (NWHOF) |
| | 9. Includes last year's NCAA, Big Ten Brackets, Results from NCAA qualifiers, PSAC, EWL, etc |
| | 10. Lists important dates for wrestling and rule changes for the 2018-2019 season. |
| | 11. Lists current head coaches and the new cycle Classifications |
| | 12. Many action photos from state tournaments. |
| | 13. Team Rankings by District and Classification |
| | 14. PJW Junior high results- placers by weith class and also grouped by affiliation. |
| | 15. Girls' Rankings |
You can also order a book by postal mail> $36.00
Send Check payable to Tom Elling's PA Wrestling Handbook
PO Box 334
Revloc, PA 15948
Penn State Wrestling
Kent State meet probable line-up, etc. Kent State Duals Iowa
Girls' Wrestling in Pennsylvania (Chris Atkinson - PA Women's Wrestling Director - USA Wrestling - PAWF)
Women's Wrestling Newsletter Oct 31, 2018 - Joe Stabilito
WIN October 3, 2018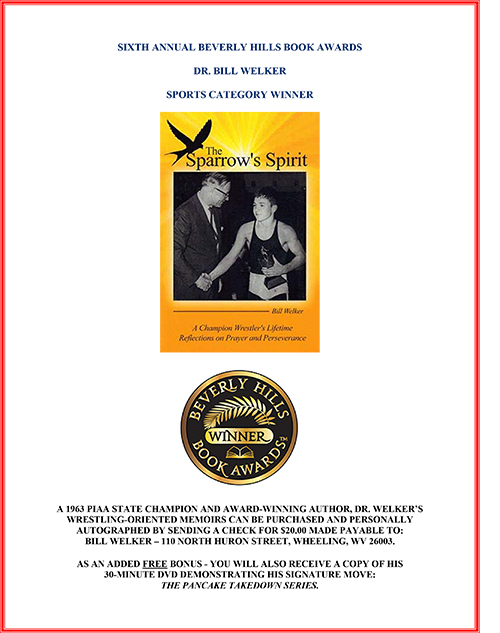 Bill Welker's book - The Sparrow's Spirit: A Champion Wrestler's Lifetime Reflections on Prayer and Perseverance - is the WINNER in the sports category in the 6th Annual Beverly Hills Book Awards Contest.
New Head Coaches
Iroquois - Jeremy Little
Williams Valley - Matt Dietrich
Bedford - Joel Easter
Norwin - Vince DeAugustine
Grove City - Wes Phipps
Seneca - Ryan Murphy
Muncy - Royce Eyer
Harbor Creek - Ron Dombkowski
Hershey - Dee Evans
Bethlehem Catholic: Rick Thompson
Dieruff: Jordan Glykas
Emmaus: Thad Smith
Freedom: Dante Terenzio
Notre Dame: Matt Veres
Palisades: Nick LaFevre
Panther Valley - Zane Bachert
Solanco - Tony Mendez
Trinity (D3) - Joe Peretta
The Hill School - Dave Hoffman
Wilkes Open 1961
I am starting to compile all of the Wilkes Open entries/brackets/placers.
I would appreciate any and all help.. old news clips, brackets, etc.
PIAA State TEAM Updates and Summaries
Photos of PIAA TEAM Championships
Photos below
.......

Outstanding Wrestler - 2A - Gavin Teasdale, Jefferson Morgan


Outstanding Wrestler - 3A -

Sammy Sasso, Nazareth

Teague Moore - makes presentations for Keystone Wrestling Round-Up

Dave Crowell, Sammy Sasso, Teague Moore

Most Falls - 2A - Gavin Hoffman, Montoursville

Most Falls - 3A - Sam Hillegas, North Hills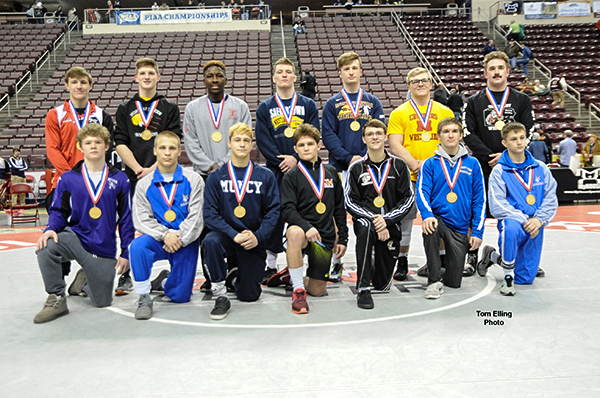 ******************** PIAA 2A Individual Champions 2018 ***************


******************** PIAA 3A Individual Champions 2018 ****************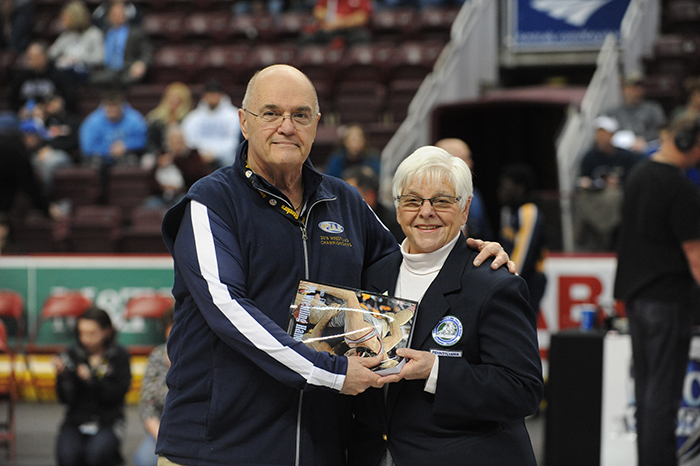 Rich Vetock of Tom's PA Wrestling presents
Wrestling USA Magazine
's
'Person-of-the-Year' award to Ann Peery Ritter.
Amateur Wrestling News' Jim Kalin has written a book about wrestling icon Mike Milkovich.
This a book all wrestling fans will want to read. Check out the press release here.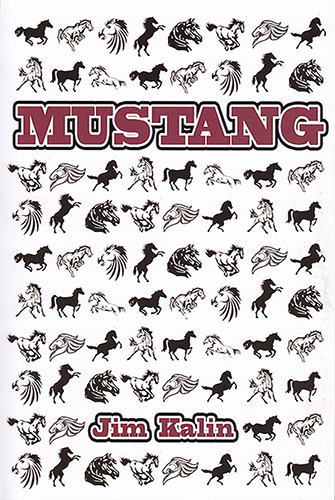 Counting your 22 Contests
A PIAA member school is permitted to participate in a maximum of twenty-two (22) Regular Season wrestling Contests based on the following method of counting Regular Season wrestling Contests:
a. One (1) Contest for each dual meet.
b. Two (2) Contests for each triangular meet or each individually or Team bracketed Tournament involving no more than 8 Teams, pursuant to NFHS Wrestling Rule 10, Conduct of Tournaments, Section 3, Tournament Brackets.
c. Three (3) Contests for each quadrangular meet, each individually or Team bracketed Tournament involving at least 9 Teams, pursuant to NFHS Wrestling Rule 10, Conduct of Tournaments, Section 3, Tournament Brackets, and each one-day Multiple School (Dual) Event or Individual Pool Event. A PIAA member school may participate in no more than two (2) Multiple School (Dual) or Individual Pool Events, excluding triangular or quadrangular meets, during the Regular Season.
d. Multiple day Combination Tournament competition points and/or multiple day Multiple School (Dual) Event competition points are the aggregate of b and/or c herein.
e. All of the foregoing must be compliant with NFHS Wrestling Rule 1, Competition, Section 4, Representation, Article 3, which provides for no wrestler to represent that wrestler's school in more than one weight class in any meet or wrestle in more than five matches (championship or consolation), excluding forfeits in any one day.
---