The Academy of the New Church is seeking one team to join the Lions Duals on 1/12/19 to complete the field of 8 teams. Each team will get 5 duals.

Entry fee is $300. Please contact director of athletics, Brandon Asplundh at brandon.asplundh@ancss.org.

Philipsburg-Osceola is looking to add one team to our Mountaineer Duals Tournament on December 8th, 2018. This will be a 3-point and all teams will

get five Dual Meets. Teams currently entered: Philipsburg-Osceola (D6AA), Hempfield Area (D7AAA) Punxsutawney (D9AAA), Mount Union (D6AA),

Harbor Creek (D10AA), Marion Center (D6AA), and Wyoming Seminary is sending a team of their wrestlers that are not competing in Iron Man that

weekend. If interested, please contact Tournament Director Matt Lobb at mlobb@pomounties.org or Head Coach Brad Pataky at bpataky@pomounties.org .

Saturday, January 12th. Souderton Area High School hosts a 16 team dual tournament and we are currently seeking 1 more team due to a team recently

dropping out. It is worth 3 competition points, guarantees 4 matches, and we run it as quickly as possible to ensure great competition in as little time as is

feasible. Contact Coach Tristan Boyd, Cell is 941-284-7916. Current teams committed: Avon Grove, Central Dauphin, Downingtown East, Methacton,

Neshaminy, Northeast High, North Penn, Pen Argyl, Pennsbury, Saucon Valley, Souderton, Tunkhannock, Unionville, Wissahickon, Woodstown, NJ

La Salle College High School will host its annual JV tournament this year on Saturday, December 29.
2018 Travis Manion JV Tournament at La Salle College High School
We will use the Madison System for weight classes and will try to get every wrestler as many matches as possible. We will have 4 mats running all day.
Weigh ins will take place from 7-8 am with wrestling to start at 9 am.
Cost: $20 per wrestler. $250 cap/teams with many wrestlers.
We will have a coaches room available and concessions will be available all day for athletes and their families.
Contact: Ben Courtney, Head Wrestling Coach E-mail: courtneyb@lschs.org

Harrisburg is looking to add two duals, I would love to have both at home but can discuss all possibilities.
Domineak Commodore - Head Wrestling Coach - Harrisburg High School DCommodore@hbgsd.us

We are looking to add 2 teams to our Harrisburg Dual On January 5th 2019 entry fee is 150.00 per team
If interested please email me at dcommodore@hbgsd.us or call 717-510-4026

Due to a late drop, Altoona Area High and Junior High is looking for a wrestling match. Preferably at home,

since this was to be our senior night. Any help would be much appreciated.
Phil Riccio, CAA Athletic Director
Phone: 814-946-8292
Email: priccio@aasdcat.com


Jim Thorpe High School is in need of a 3 point tournament on any of the following dates: 12/15, 1/12, or 2/2. Ideally we

are looking for an individual tournament.

Please contact head coach, Shawn Albert at salbert@jtasd.org if you know of any openings.

West Chester Rustin (District 1) is looking for a dual meet.

Please contact Brad Harkins at bharkins@wcasd.net if you are interested in setting up a match.

Danville is looking for one team to complete the field. We are heavy on northern tier teams, I'd love to get

someone from district 2, 3, or 6.
Teams committed thus far...
Athens
Allentown Dieruff - Danville - Dryden, NY - North Penn-Liberty - Pleasant Valley
Williamson -

Matthew P. Bloom

Cell number (570) 951-2158

Rambler Duals (Catherdral Prep Erie) December 22, 2018 need 1-2 teams

Lehighton High School currently has 2 openings for their Indian Duals tournament on Saturday, January 12th.

This is a team dual meet tournament with 8 teams. Each team will wrestle 5 matches.

Contact Floyd Brown – Head Wrestling Coach at fbrown@lehighton.org or 484-695-6575.

Dieruff HS of Allentown is looking for a 2 point dual event to round out our schedule, or 2 stand-alone duals.
Open weekends are-
Dec. 15 - Jan. 19 - Feb. 2 - Feb. 9 ---- Single duals more flexible.
Contact: Jordan Glykas jordanglykas@gmail.com

Kane (District 9) is looking for a dual meet tournament to add to their schedule
Contact: Mike Swartwood, Head Wrestling Coach - Kane Area High School
mlswartwood@msn.com 814-837-5134


The "Bo Wood" Wrestling Tournament Sponsored by Colonial Toyota n Colonial Motor Mart is looking for 2 Teams for an

16 Team Individual Tourney. One day, 3 pts,***lots of wrestling**(wrestling back as far as Piaa allows), 6 mats, It will be

Jan 5TH 2019, . There also will be a ** BIG JV tournament ** in the other gym . So your whole Team wrestles. Schools

AA and AAA Schools from District 5,6,7,9,10 One price for your whole team to wrestle $350.

If interested or any questions. Tony Donatelli Indiana Area Sr High Coach 724-968-8422

or twobobd@verizon.net or our Athletic Director Greg Lezanic 724-463-8565

Husky Duals January 12th at Mifflin County High School. Count as 2 points.
Information Contract
Contact: Tish Maclay, M.C.A.A Athletic Director Mifflin County School District
nem32@mcsdk12.org
717-242-0240 ext 8515

Bishop McCort (District 6 Johnstown) is looking for a varsity dual, preferably home, anytime throughout the season.
Contact Paul Myers - cell number is 814-502-5439 upjmyers@yahoo.com

Immediate opening for head wrestling coach at Williams Valley - a small District XI AA school on Schuylkill/Dauphin county line.

Participation numbers were hit hard last two years.

Return 3 district placewinners, one of them was league and district champ and state qualifier.

Contact Dr. Diane Niederriter - Supt - Williams Valley HS 10330 Star Route 209, Tower City, PA 17980

The Cocalico Junior High Wrestling tournament is on December 15, and we are still looking for teams who want to add another tournament

to their schedule. Due to a date change, some of the teams from last year are unable to return, but we want to make sure to fill all open spots

because we are making sure it stays a competitive, full tournament. There is also a JV tournament to ensure that JV wrestlers get a chance

to get some matches early in the season. Check here for Information. Contract

If you're interested, please email me at theodore_wolf@cocalico.org

La Salle College High School currently has one opening to their annual Travis Manion Memorial Tournament help on December 8. This tournament

is an 8-team individual bracketed tournament worth 2 PIAA points. Please contact Ben Courtney at courtneyb@lschs.org with any questions.

Warwick is looking for one team for December 8th

8 team bracketed tournament ,3 matches 2 points.

Contact

717-468-1685

Cedar Crest High School is hosting a scrimmage Saturday 12/1. Two sessions, 1st is for HS (8-10:30 am) and the 2nd is for JH (10:30-12 pm).

We are looking for 2 more teams to join. You do not have to participate in both. Please contact Chris Voshell for more information.
Christopher J. Voshell Christopher_Voshell@easdpa.org
Head Wrestling Coach
Cedar Crest High School
717-368-9072

Newport Wrestling is looking for teams to fill their Duals and Holiday Tournaments. Both tournaments are 2 pts.
12/7 Newport Duals (2pts)
· 8 teams 4 mats 2 gyms

12/29 Newport Holiday Tournament (2pts)
· 8 Teams Wrestle to 5th and 6th place


Please contact: Mike Capozzoli
mcapozzoli@newportsd.org or mjcapozzoli@gmail.com

Archbishop Spalding High School of Maryland is in need of a couple more teams from out of state to compete in the 2019 Cavalier Duals on

January 18th & 19th. Teams from VA, MD, DE, and NJ have competed in the past. Teams will receive 7-8 duals. Price is $400. If interested

please contact Head Coach Mike Laidley at mikel@mcdonoghcompanies.com and/or tournament director mswitzer_ccr@yahoo.com

West Scranton is in need of 2 matches.
The dates preferred are Wednesday 2/6/19 and Wednesday 2/13/19.
Contact Paul Fox paul.fox@ssdedu.org 570-348-3625

Claysburg-Kimmel continues to look for Varsity Wrestling teams for the Annual Claysburg-Pizza Duals. The tournament will be held on

January 19, 2019. The following teams have committed: CK, Cambria Heights, Glendale, Central, Portage, Tussey Mt., Marion Center,

Southern Huntingdon, Tyrone, and, Central Cambria. Each school will be guaranteed four matches with a potential for five.

Please email AD Brian Helsel at bhelsel@cksdbulldogs.com and/or contact him at 814-239-0318.

Clearfield Jr High is looking for Junior High teams looking to compete at the Square One Holiday Classic @ Clearfield Area High School.

The tournament will take place on Saturday, December 29th 2018. Format: Individual (3 scheduling points, 12-16 teams. If changed will notify),

teams may enter up 3 wrestlers per weight class (1 starter, 2 JV), double-elimination, awards to top 4 (Hoodie and custom printed bracket to

Champ, long sleeve shirts 2-4). Entry fee $250 per team.

If you are interested or need more information contact: Harlen Funk at dfunk@clearfield.org or at 814-765-5511 ext 1226.


The Montgomery Area School District is accepting applications for the following positions: Head Junior High Wrestling Coach

and Assistant Junior High Wrestling Coach for the 2018-2019 school year. Coaches must have the following clearances: Act 34,

114, and 151 Clearances, Physical Exam, and TB. Coaches will also need to complete new coaching education and first aid classes.

Interested applicants should contact Head Varsity Wrestling Coach Kyle Mowrey at the following email address: kmowrey@montasd.org

.

Sugar Valley Rural Charter School is looking for a head wrestling coach. Contact Craig Buskirk if interested craigbuskirk1961@yahoo.com

Danville High School is looking to host an 8 team individual tournament on January 12, 2019. The tournament is 2 competition points.
If interested contact Matt Bloom at mbloom@danville.k12.pa.us as soon as possible.

We are looking to fill a tournament date for the 2018/19 season. I am with Douglas County HS in Colorado and I have 5 to 6 kids that I am

looking to get some tougher competition and would like to come to PA for the next few years. 3 of them have been traveling for years with my club

but the others need to get the exposure. Looking for tournaments for Jan. 25th-26th. Let me know if you can help or if you can get me in contact with

a tournament director. Call me if you have any questions or leads.
Luke Morris
DCHS Assistant Coach
303-669-5384
Luke.sotacademy@gmail.com

Due to a team dropping out, Kutztown has one spot available for a 2-point individual tournament on Dec 15. We will wrestle back to 8th place

so everyone can get a lot of mat time. There will also be opportunities for exhibitions and JV matches. We will keep three mats going the whole day.

If interested, please contact Dan Aruscavage at aruscava@kutztown.edu

Shikellamy (Sunbury, PA) is looking for a Junior High Head Wrestling Coach. Any interested applicants can
contact Mike Egan at eganm@shikbraves.org or 570-286-3702

1) Central Columbia HS
Looking for 2 teams to fill our Duals Tournament. 5 matches. 3 points.
2018 Bob Rohm Duals @ Bloomsburg University - Saturday, December 29th.
Confirmed 2018 Participating Teams:
Central Columbia, Sugar Valley Charter, Trinity (3), Muncy Area, Mifflinburg Area,
Mount Carmel Area.
Please contact Nate Johnson - njohnson@ccsd.cc for more information.

2) Central Columbia School District is looking for a Assistant JH wrestling coach.
If any interest, please contact Nate Johnson - njohnson@ccsd.cc

Cedar Crest High School has open dates January 12th & 19th (preferably the 12th). We would like to fill one of those dates with a dual.

Anyone interested please contact Chris Voshell at 717-368-9072 or email me at cvoshell@ptd.net.

Zephyr Duals - January 5, 2018 at Whitehall High School (DXI)

Dual meet tournament in line bracket format.

Each team gets 4 duals that count as 3 points.

Sharon Wrestling Clinic July 16-19

https://www.facebook.com/photo.php?fbid=10213876716164322&set=a.3220511383935.2143466.1000924079&type=3&theater

North Penn Liberty is looking for individual tournaments and some extra dual meet matches. If you have any openings please email Eric Pequignot at epeq@live.com


Coatesville has openings still for the Wrestle~fest Duals (HS, MS & Youth) and Matsplosion Open on January 6th at F&M College. All info here. High School Middle School Youth


Also, Coatesville HS is looking for a Individual Open Tournament the weekend of December 15-16. We are also looking for HOME dual meets on the following |
Dates, Wed, Jan 30th or Wed. Feb 13. Anyone interested in adding Coatesville HS to their schedule, have them contact Jeff "peanut" Bowyer at jeff.bowyer@hotmail.com

Philipsburg-Osceola is looking to add teams to our Mountaineer Duals Tournament for the upcoming season. This will be a 3-point event held on December 8th, 2018

at the Philipsburg-Osceola Area High School. All teams will get five Dual Meets.

If interested, please contact Tournament Director Matt Lobb at mlobb@pomounties.org or Head Coach Brad Pataky at bpataky@pomounties.org .

Shikellamy is looking for one more team to fill the December 15, 2018 dual meet tournament. The six team event will guarantee all teams wrestle five dual meets.
All teams wrestle every round in the main gym. JVs will be paired up for additional mat time.
Please contact Coach Mike Egan at eganm@shikbraves.org or athletic director, Tim Foor at foort@shikbraves.org

Hanover Area (District 2) is look for an Assistant Coach. If interested please contact Head Coach Mike Griffith at mgriffith@hanoverarea.net or 570-760-1160.

Hanover Area (District 2) will be hosting a summer duals tournament on Saturday, July 21st wrestling starts at 9 am. Honor weigh in system. We will accept

the first 12 teams to register and wrestle 4 pools of 3, with a bracketed team dual tournament following. Everyone will be guaranteed 5 matches. Please let me

know if you are interested. a $100 deposit is due within one week of reserving a spot.


Southern Huntingdon Junior High Tournament - Dec 22, 2018 (Need one team)

Northern Lebanon is in need of 1 team for our NL Duals to be held on 1/12/19. This is an 8-team bracketed duals worth 2 points. Email rwallace@norleb.k12.pa.us for info.

Northern Lebanon is looking for a 2-point event on 12/22 or 1/19. Email rwallace@norleb.k12.pa.us with details

St. Marys Kickoff Classic

8 Team individual Tournament

Will Wrestle to 8th place.

Tournament is opening Saturday of the Winter Sports Season.

We are looking for teams to round out our annual tournament. Please contact Head Wrestling Coach Dominic Surra by email dsurra@smasd.org or phone 814-335-0579

York Suburban (district 3) is looking for Jr. High teams for the 3rd annual TWC Trojan Battle. The tournament will be held on 1/26/19

and it will be a round robin or pool style tournament worth 3 points. JV matches are available at no extra cost and we will use 4-5 mats.

If you are interested contact Brian Gentzyel: bgentzyel@yssd.org or 570-295-1905.

Twin Valley is looking for individual tournaments and team duals with teams that are light in numbers. Open dates December 8th,

January 19th, February 2nd and February 9th.
Shawn Wilkinson swilkes123@yahoo.com
Twin Valley Wrestling 610-608-2198

Mifflin County Husky Duals at Mifflin County on January 12th, 2019.
Information Contract

Exeter Township is in need of 2 teams for their duals on Saturday January 19th, 2019 next season. This a standard 10 team Dual meet Tournament.
Please contact me at jsrugg@exetersd.org or 570-205-3319 if you are interested.

Pequea Valley School District is looking for both a Senior High and a Junior High Head Wrestling coach for the upcoming 2018-19 season.
Coaching experience and/or wrestling experience at a high level is preferred.
Please contact Athletic Director Mark Grossmann at 717-768-5510 ext 5520 or by
email at mark_grossmann@pequeavalley.org<mailto:mark_grossmann@pequeavalley.org>


Meyers High School (District 2) is looking to add 4 to 6 more Jr. High Teams to their annual Meyers Jr. High Tournament being held on Saturday, ]

December 29, 2018. As of 5/11/18, we have 16 teams confirmed for out tournament but looking to get to 20 to 22 teams.

If interested please contact Coach Anthony Mercadante at mohawkwrestling3@gmail.com

Also, Meyers High School is in search for a Jr. High Coach. If interested please contact Coach Anthony Mercadante at mohawkwrestling3@gmail.com.

Cocalico has several tournament openings for this coming season.

We have an 8 team bracketed dual meet tournament (two competition points) with both a High School and a Jr. High division on 1/19/19. Each team will get 3 matches.

We will also be running a mat for JV wrestlers the whole day. This is great opportunity to get matches for Jr. High, Sr. High, and JV wrestlers all in the same location!

You can join as either a HS team or Jr. High team, but preference will be given to schools who can enter both divisions and field full teams.

Contact Matt Fittery at matthew_fittery@cocalico.org for more info.


We also have an individual Jr. high tournament with 16+ teams (3 competition points) on 12/15/18. They wrestle to the top 8 places; semi final losers wrestle for 3rd and 4th

while everyone else can wrestle back to 5th. This allows us to keep it at a one day tournament and not exceed the 5 match limit. We also run a JV tournament at the same

time in an adjacent gym. For more information contact Teddy Wolf at theodore_wolf@cocalico.org



The 2019 Cedar Crest Falcon Invitational on Feb. 2nd will be an 8 team individual tournament (2 comp points) with full wrestle backs. There will also be a round robin
JV tournament (in separate gym) simultaneously. We are still in need of 4 teams. If you are interested please contact Chris Voshell (christopher_voshell@easdpa.org) for more details.



Downingtown West, Bedford and Bald Eagle have spent time at the annual Manheim Lions Holiday Wrestling Tournament ever since its inception in 1970.
BEA has been involved for 47 years. As I go about planning for the 2018 event scheduled for December 28-29 in Manheim, PA, I could really use your help in
my efforts to stimulate more interest and secure additional teams for the occasion. I am able to advertise all over District 3, but do not have the capability to
reach out to everyone in District 1, 5 and 6. I'm sure you can do that.
Contact George Derbyshire derbyshireg@manheimcentral.org

Would you please release a brief ad on your District-wide server on behalf of Manheim Central HS?

Kutztown has an opening for 1 team for an 8-man bracketed individual tournament on Dec 15. We will wrestle back to 7th place and have JV matches during the day.
Contact Dan Aruscavage, aruscava@kutztown.edu if interested.

Central Dauphin Duals has openings for Junior High and High School teams on January 5, 2019. Each team will get 5 duals, 3 points.
Please contact Lee Norbury @ lnorbury@cdschools.org.

....

Wyalusing has an opening next season in their dual meet tournament on Saturday Dec. 8, 2018. We have teams from

District II, District IV, and Waverly, NY. If interested, contact mearle@wyalusingrams.com
---
Berks Catholic (District 3) is hosting an individual junior high tournament on Saturday January 12th 2019. This will be an
8-man bracketed tournament worth 2 points. We will include JVs if possible to fill brackets.
If interested please email dsola@bcsaintswrestling.com.
The Kurt Meister Invitational Tournament hosted by Archbishop Wood HS (Warminster,PA) is looking a few competitive
---
teams to round out the 2018 field. This is an 8 team individual bracketed tournament that will wrestle back to 7th/8th place
to maximize matches. Last year we had teams from VA, NJ and PA. Tournament date is Saturday Dec. 15th.
There is also an opportunity for your JV to get a few matches in as well. Please email coachreilly_35@msn.com for
more information
---
Southern Columbia is looking for a dual meet for the 2018-19 season. If interested contact:
Jerry Marks jemarks@berwicksd.org 570-854-2947
---
CONESTOGA VALLEY JR. HIGH, LANCASTER, PA, DISTRICT III is hosting an eight (8) team JR. HIGH bracketed
dual meet tournament on Saturday, December 8, 2018. This is a 2-point competition for PIAA schools. Schools will
wrestle 3 dual meets during the course of the day with a time set aside to get all JV wrestlers bouts as well. Schools
with full line-ups will be given preferential consideration.
If interested, contact Head Wrestling Coach, Trent Turner, by email: trent_turner@conestogavalley.org or
by phone at 717-397-5231, ext. 1069.
---
McDowell is looking for new teams to make this a great JH/JV event. Load up one bus with both teams and
come get great wrestling in all day
Exhibition rounds for anyone going 0-2. JV guys get at least 5 matches in!
Contact Timothy Simon tsimon@mtsd.org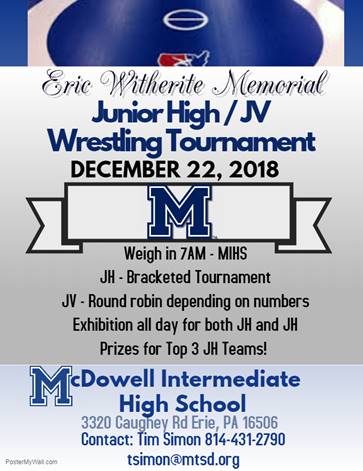 ---
Martin Luther King HS, out of District 12, is looking for a 2 pt. Individual Tournament and a 3 pt.
Pooled Event - either Dual or Individual. We have the following open dates:
12/8/18
12/22/18
1/5/19
2/9/19
*Below are situations that are ideal for our schedule. However, I am open to any format if there is an
opening for a tournament on the dates listed above:

12/8/18 or 12/22/18 - 3 point pooled event
2/9/19 - 2 point bracketed individual tournament
If in need of a team, please contact Coach Castelli at dfcastell@philasd.org
---
Pocono Mountain West High School and our Junior High are both seeking a dual for the 2018-2019 season. It is preferable that both are together.
Please contact kkloiber@pmsd.org for more information.
---
Martin Luther King HS is hosting the Cougar Duals, a 16 team bracketed dual meet tournament, on the first Saturday
in February. We are looking for 4 more teams to round out the field, and would like to invite your school. Below is some
information regarding the tournament, with more detailed information to follow one the field is set.
Date: 2/2/19
Location: Martin Luther King HS, 6100 Stenton Ave Philadelphia, PA 19138
Format: 16 team Bracketed Dual worth 3 PIAA Competition Points
All Teams get 4 matches, trying to find a way to guarantee 5 matches
Separate Mat for JV matches
Cost: $350
2018 Teams Confirmed to Return: Academy Park HS (D1), Chichester HS (D1), King (D12), Marple-Newtown HS(D1),
Northeast Hs (D12), Octarara Area (D3), Penn Wood HS (D1), Pottstown HS (D1), Springside Chestnut Hill Academy
(Nat. Prep), Wallenpaupack Area HS (D2), Westtown School (Nat Prep), Wyomissing Area (D3)
Teams will be accepted on a first come first served basis. Hope to hear from you soon.
Please reply either by email at dfcastell@philasd.org or phone 215-203-2842
---
2019 HUSKY DUALS at Mifflin County HS, Mifflin County, PA
Saturday January 12th, 2019
Scales will open at 7 am for weight checks
Weigh Ins: Start at 8:00 am, Wrestling to start at 9:30 am (should be done mid afternoon)
Cost: $200 per team (checks made payable to Mifflin County School District)
Competition: 8 team bracketed Dual Tournament worth 2 PIAA competition points
(all teams guaranteed 3 matches run on 4 mats)
We will do JV matches @ the conclusion of each round.
Trophies: 1st & 2nd place team trophies will be awarded
Food and Beverage will be available throughout the day
All PIAA rules will apply
Any interested teams or questions please contact:
Head Coach: Kirby Martin, jkm31@mcsdk12.org
Athletic Director: Tish Maclay, nem32@mcsdk12.org
Mifflin County HS
501 Sixth Street
Lewistown, PA 17044
---
Juniata High School (D-6 AAA) has opening for both Junior High and Senior High Teams in our Duals tournaments 1-5-19 and 1-12-19.
Last year our duals had 33 State Qualifiers, 16 State Medalist, 7 Finalists and 2 state champions compete. All teams are guaranteed five
matches, awards will be give to the top 3 Junior High and top 3 Senior High teams. New this year an outstanding wrestler award will be
given to each team. If interested please contact Ray Barrick at barrickwrestling@gmail.com
---
3rd Annual Messiah "Great 8" High School Team Duals (need 4-5 teams)
When: Saturday April 14, 2018, wrestling starts @ 9:00 AM
---
South Williamsport Area High School is looking for teams to add to their individual tournament on1/05/19. The tournament will be a double
elimination tournament worth 3 competition points. We will wrestle to 8 places, attempting to give all wrestlers 3 matches.
Please contact head coach Eric Gerber at ericgerber56@yahoo.com if you are interested in attending.
wrestler is scheduled to get five bouts. Last year's event had 50 regional medalists, 27 kids wrestled at states, 14 state medalists,
and 2 state champions. We bring in teams from three different states so you will get to see kids you normally never do.
5 matches and individuals can wrestle more bouts with exhibitions. We already have teams coming from New York, Maine, as well
will receive five bouts. We are looking to expand to 10 teams. Last year teams who participated: Pen Argyl ( 11 ), Chambersburg
( 3 ), Mount Carmel ( 4 ), Blue Mountain ( 11 ), Strath Haven( 1 ), Northern York ( 3 ) and Honesdale ( 2 ).
school districts have committed:Claysburg-Kimmel, Cambria Heights, Northern Lebanon, Central (Martinsburg), Glendale, Tussey Mountain,
also offers a complimentary coaches/officials room with drinks and food all day.
Please contact Brian Helsel, Athletic Director @ CKSD. Email is bhelsel@cksdbulldogs.com ; Phone: 814-239-0318.
It will be a 3 pt tournament with 6 teams and each team wrestles 5 matches. See attached information for the tournament. Any team interested
This bracket tournament features 24-26 teams from Ohio, PA, and WV. Each year I strive to add top competition from each state
to create a quality early season tournament. The tournament has grown over the past four seasons and we look for that to continue.
2015 - Sixty-five of the wrestlers in the tournament qualified for the State tournament in their respective state. Many of which placed high at the state level.
2016- 72 wrestlers that were ranked in their respective state. Of 260 wrestlers that competed 76 qualified for the State tournament in their respective state.
2017- Over 100 wrestlers met seeding criteria. One of the most competitive fields in recent years.

If you would like to see results from the past few years, check ovaecwrestling.org or baumspage.
Reasons to come to the 50th Annual Doan Ford-Barnesville Wrestling Invitational:
Competitive early season tournament (past 2 years- 152 State qualifiers)
True bracket tournament (32 Man Bracket)
Two tournament directors determined to make this a great tournament
Smooth tournament (Tournament is completed between 7:00-8:00 Saturday evening)
Seeding criteria used via Baumspage.
Good communication throughout tournament through email, texting, and phone calls.
We select top rated officials
Adult table workers- many have been working same table for past several years
Two wrestler awards (Most Valuable and Most Pins in shortest time)
Top 2 team trophies, with a plaque for coaches as well.
Top 6 places awarded per weight class.
Video of tournament sent to all teams.
Efficient weigh ins
Wrestler warm up room beside of gym
Three locker rooms for teams to use
Updated brackets after each championship round and before consolation semifinals
Coaches room supplied for coaches and staff
Convenient location, just south of Interstate 70 and East of Interstate 77
Discounted room rates at local hotels
Willing take suggestions for tournament improvement from year to year.
Please look at your schedule to determine if you would like to be a part of this tournament for the 2018-2019 season. Contact me anytime to reserve a spot.
Cell (740) 359-7456 Email- clinton.abbott@bevsd.org